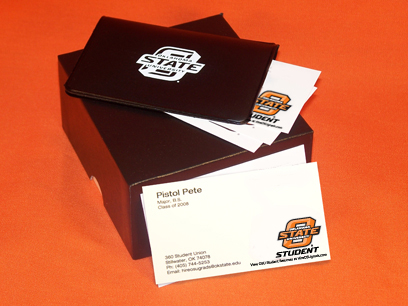 Student Business Cards
One of OSU Career Services' goals is to help you present a professional impression to potential employers. What better way to do this than by having your very own business cards?
Student Business Cards are a networking tool that are available for all currently enrolled OSU-Stillwater and OSU-Tulsa students.
Cost is $5 for the first order and $12 for additional/future orders. Typical delivery time is 14 days. In some cases, delivery may be delayed due to low order volume. Be sure to order your business cards early. To order your Student Business Cards, complete the form below.
Student Business Cards are subject to our
Job Search Supplies Policy
and are intended to contain your current program of study. Due to limited nature of our printing process, Certification, Awards, Honor Societies, Organizations, Campus Department Name, Job Title, and Web Address cannot be listed.