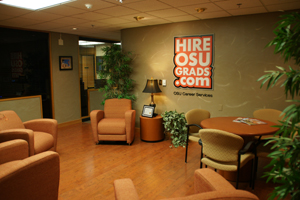 Address:
OSU Career Services
360 Student Union
Stillwater, OK 74078
Phone:
405-744-5253
Fax:
405-744-9954
Email:
careers@okstate.edu
Website:
Office Hours:
8 am - 5 pm (CST)
Monday - Friday
Vision
Will empower all OSU community members with the passion and abilities to achieve their ideal future.


Mission
Building upon OSU's land-grant mission, OSU Career Services facilitates quality career development and outreach services to enhance life-long learning and economic development.


Core Values
Community - We foster a strong sense of community based on shared governance among students, faculty, staff, and administrators, which allows us to expand our intellectual and interpersonal horizons in a safe, friendly, and supportive learning environment.


Excellence – We seek excellence in all our endeavors; we are committed to continuous improvement.


Diversity – We respect and value the diversity of individuals, beliefs, and opinions.


Integrity – We are committed to the principles of truth and honesty; we will be equitable, ethical, and professional.


Service – We believe that serving others is a noble and worthy endeavor and is one of the distinguishing features of a land-grant institution.


Intellectual Freedom – We believe in ethical and scholarly questioning in an environment that respects the rights of all to freely pursue knowledge.


Stewardship of Resources – We are dedicated to the efficient and effective use of resources and sustainability practices to conserve those resources. We accept responsibility of the public's trust and are accountable for our actions.





Associations