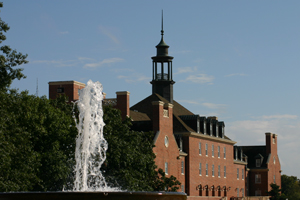 On-Campus Interviews
Each year hundreds of employers visit OSU to conduct interviews on campus. This is a great opportunity for you to easily reach employers through their college recruiting program.
How the process works
Find the position you are interested in through the Hire System.
Apply through the Hire System (some employers will have additional application procedures too).
Wait for the employer to make a decision.
Receive an email indicating that you are accepted, an alternate, or rejected.

Accepted candidates are able to sign up for a timeslot, usually a week before the interview date.
Alternates are able to accept a timeslot (only if some of the Accepted students don't sign up) about 4 days before the interview date.
Rejected students are not able to accept a timeslot, but if you are very interested in the company, we still recommend attending their connection session if they are hosting one. Sometimes recruiters will add you to their interview list at the connection session.

On the interview date, arrive 10-15 minutes early and conduct your on-campus interview.
Notify us if you need to cancel (less than 24 business hours notice carries some ramifications) so we can open your timeslot for other candidates.
All interviews are subject to our
Interview Policy
.