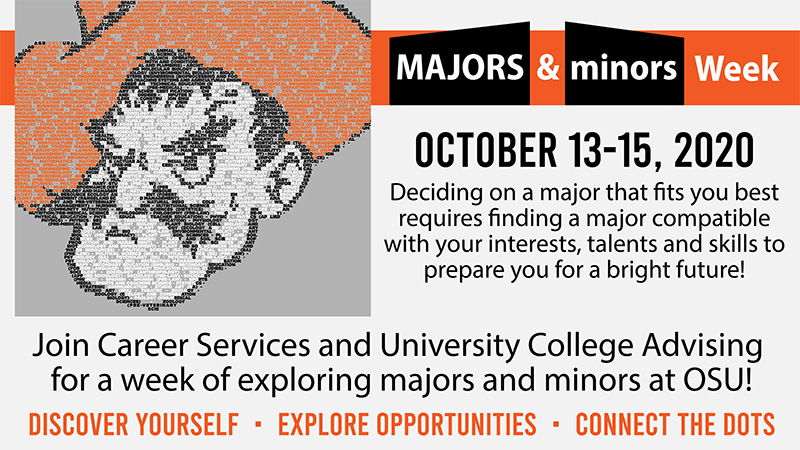 ---
Join Career Services and University College for Majors & Minors Week, October 13-15!
October 13 |
Student Panel on OState.tv
4:30pm - 5pm
If you are struggling with choosing a major, don't worry - you aren't alone! Tune into OState.tv and hear personal stories from five OSU students who explored their major options and discovered not only their majors but even more about their likes, passions, and interests.
October 14 |
Crack Your Career Code
|
* Register Here *
3pm - 4:30pm
Looking for the right major or minor for you? Maybe you have a major but are unsure about career opportunities open to you. Take the Focus 2 Career Test and join me on October 14th at 3:00pm to "Crack Your Career Code." In this session you will find specific career paths that match your interests. You'll also receive help on starting your major search or narrowing down major and minor options.
October 15 |
Ask Me Anything ... About Majors & Minors
|
* Register Here *
3pm - 4:30pm
This come and go program is your chance to get any and all questions answered about the majors and minors at OSU. Join representatives from each academic college who will be able to answer your major or career-related questions and give you the information you are looking for!
---
OSU offers more than 87 majors that encompass over 200 options. Deciding on the major that fits you the best requires finding a major compatible with your interests, talents, and skills to prepare you for a bright future!
Close to 70% of college students change their major at least once and somewhere between 20-50% enter college truly undecided upon an academic major or their future career plans.
Start your self-exploration now with the following steps to help you decide on a major that fits your goals and can lead you toward a successful career.
Discover Yourself: Identify your personal style, interests, skills, and values


Explore Opportunities: Pinpoint possible career options that match your interests


Connect the Dots: Connect the information you have gathered to majors and minors that match you best


Decision-Making: Review your options, speak to your College Career Coordinator, and make a decision


Evaluate Your Decision: Ask yourself how you feel now, are you enjoying your classes, do you feel more confident, are your grades improving, etc.
With each of the steps above, Career Services has
assessments
, programs, and
one-on-one appointments
to help with the exploring majors process.
Have questions?
Check out our
Exploring Majors handout
,
make an appointment
with a Career Consultant, or find more information at the
University College
website.