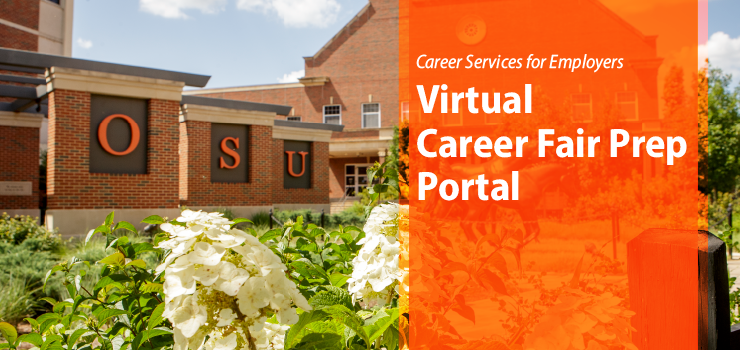 You're registered for the Virtual STEM Career Fair at OSU, now what?
OSU Career Services will be using the Career Fair Plus platform for all of our fairs this spring. Once registered for the fair, please review our timeline below and follow this step-by-step guide so you can become familiar with the virtual fair process and find success connecting with OSU students and alumni.
If you would like an idea and a thorough overview of what virtual Career Fairs will look and feel like at OSU, we recommend signing up for a Recruiter Webinar provided by Career Fair Plus. Webinars run weekly on Tuesday mornings and Thursday afternoons.
Virtual STEM Career Fair Timeline

×
Prior to Career Fair Week
The two main features students and recruiters will utilize during the Virtual STEM Career Fair are group meetings and one-on-one meetings.
Group Meetings:
Each company will have ONE group meeting video chat room between 10am - 12pm. This is a great place for students to pop in and introduce themselves, ask basic questions and get to know the company. If you want to get familiar with the group meeting video chat room now,
click here
. This can be accessed by multiple recruiters and up to fifty students at a time. Please note, at least one recruiter will need to staff your group meeting room from 10:00am-12:00pm.
Please do not edit your Group Meetings. These are for a set length and time as part of the agenda for the career fair and should not be changed or edited.
Meetings:
Each company has access to one-on-one meeting schedules from 1:00pm – 5:00pm. These meetings should act as a replacement of the physical handshake and interaction at the in-person event.
Meetings consist of short timeslots where students can visit one-on-one with a recruiter, briefly discuss their resume and the opportunities available within the company.


Students can sign up for meetings before and during the virtual career fairs.


Keep in mind, they should not be managed as an interview, but as informal and casual opportunities to connect with students.
Action Items:
Enter your primary recruiter's information in your registration or send to your recruiting partner after you are registered.




Edit your one-on-one meeting schedules.




Finalize your one-on-one meetings before February 15th.



On February 15th, students will have access to book meetings. Once a meeting time is booked, you can no longer edit that time slot.


We encourage all of our registered employers to have their meetings finalized before February 15th.


Week Before the Fair
Login to the
Career Fair Plus platform
and practice using the software. Recruiters must test their video meeting links before the virtual career fair. There are many instances where recruiters are unable to join their meetings due to a network blocking issue. To prevent this, testing is a must!
Join your meeting room to make sure all of the features are working.

Look over your meetings leading up to the fair to see when students have booked.

Day of the Fair
If you have any questions the morning before the fair, we will have a live Employer Helpdesk (link coming soon!) between 8am – 11am where the Career Services team will be available to answer questions and help with technical difficulties.
To find your Meetings (group and one-on-one) schedule(s):
Login to your account at app.careerfairplus.com/login


Find your meetings schedule


Click "Join Meeting" at the designated time.



Enter your name and click "Continue"


Click "Request Permissions" for access to your webcam and microphone and select "Allow."


Click "Join Meeting" to enter the video chat room.
We recommend using the
Career Fair Plus app
on your phone in conjunction with the desktop platform. The app offers places for notes, student ratings, a timer, and additional features that you won't find on the desktop version.
After the Fair
Career Fair Plus stores all of your meetings and the associated student profiles. From your meeting schedule, you can export all of this data at the end of the fair or any time thereafter.

Downloading Your Meetings
Contact your recruiting partner if you are interested in receiving assistance with arranging
virtual interview schedules
with OSU students,
connection sessions
, or
posting a job
to the OSU Hire System.
Have a question? Check out our
Frequently Asked Questions
for Recruiters. Didn't find your answer? Contact your recruiting partner or email us at
careers@okstate.edu
.