Welcome to Career Services at Oklahoma State University! We provide one-on-one appointments, career development programs, and career assessments that help students explore who they are and the majors and careers that align with their interests, values, and personality. Our goal is to support the success of every OSU student in developing as a person and as a professional.
Our main office is located at 360 Student Union; however, we are working virtually until further notice. While some of our programs and services are listed below, if you have any specific questions, we would love to assist you and your student. Please feel free to call us at 405-744-5253 or email
careers@okstate.edu
.
Be sure to connect with us on social media @hireosugrads to stay in-the-know about upcoming programs, career development features, and career tips for your student!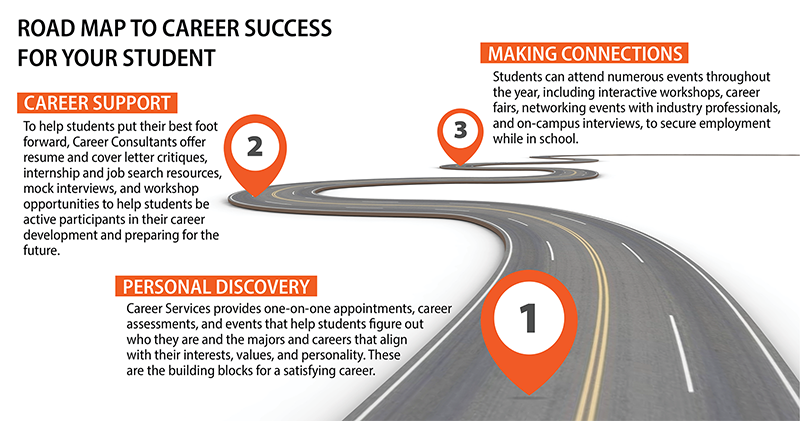 The staff of OSU Career Services recognizes the impact parents and families have in the lives of their students, especially in regards to their career development and planning. You can encourage your student in this process and help them find the career they desire by checking out our
Parent and Family Information Sheet
and encouraging your student to take advantage of the opportunities we provide.
Career Support
To help students put their best foot forward, our Career Consultants offer
resume and cover letter critiques, internship and job search resources, mock interviews, and workshops/training opportunities
to help students be active participants in their career development and preparing for the future. Additional
free and discounted resources like resume paper, thank you notes, business cards, and portfolios
are also available.
Connections with Employers
Students can join in for
numerous events
throughout the year to gain new skills and potentially secure employment while in school. Our yearly events include:
Fall Semester
Part-time and Volunteer Job Fair
Mock Interview Day
Agriculture, Food, and Natural Sciences Career Fair
Business Career Fair
Engineering, Architecture and Technology Career Fair
Majors & Minors Fair
Summer Camp Fair
Spring Semester
Mock Interview Day
Professional Headshots
Construction Industry Career Fair
Architecture Career Fair
Hospitality Days
All Majors Career Fair
STEM Career Fair
Education Career Fair
Additional events, programs, and workshops can be found at
HireOSUGrads.com
Family Support
Your support plays a vital role in a successful transition to college and career success. You can help your student by doing the following:
Encourage meetings early on with professors, academic advisors, and career consultants
Promote career assessments to clarify academic and career interests
Recommend a part-time job during college to meet new people, learn time management and key life skills, build their resume, and provide financial support
Highlight volunteer activities as a way to get involved in a new community and meet students with similar interests
Celebrate success! Achievements like good grades, scholarships, awards, and involvement in student organizations are all building blocks for an enjoyable and successful collegiate career
Remind your student that their career starts now! Time spent investing in personal and professional development increases their competitiveness for internships, grad school, or full-time employment
The earlier we connect with your students in their college experience, the more Career Services can help them create a successful transition and encourage a growth mindset!