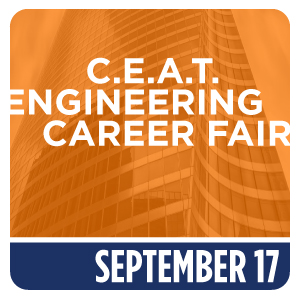 9/17 - CEAT Career Fair
9 am - 3:30 pm @ Gallagher-Iba Arena
Get your resumes ready! The annual CEAT Career Fair will be here soon! If you are a CEAT student, this is a great opportunity to meet with companies that are interested in you. If you are searching for a job for after you graduate, a summer internship, or if you're just interested in seeing what companies have to offer you, be at Gallagher-Iba Arena on September 19th. Don't miss this chance!
Although all OSU students are invited to the CEAT Career Fair, most companies attending the fair are seeking students enrolled in an engineering, Architecture, or technology program.
Registered Companies
3M Company
AAON, Inc.
ABB Inc.
Aberdeen Dynamics
Adolfson & Peterson Construction
AGCO Corporation
Agilis Engineering, Inc.
Aguirre & Fields, LP
Air Hygiene International, Inc.
Alan Plummer Associates, Inc.
Allen Contracting, Inc.
Altec Industries
American Airlines
American Electric Power - AEP
American Fidelity Assurance Company
American Fire Protection Group Inc.
ArcBest Technologies
Archer Western a member of The Walsh Group
Ascent Resources
ASRC Federal
Austin Bridge and Road
Austin Commercial
B+T Group
Baker Hughes, a GE Company
Balfour Beatty Construction
Bartlett & West
Bartlett Cocke General Contractors
Benchmark Group
Benham (a Haskell Company)
Blue Cross Blue Shield
Burns & McDonnell
Byrne Construction Services
capSpire, Inc.
CEC
CenterPoint Energy
CenturyLink
Chesapeake Energy Corporation
Chevron-Phillips Chemical Co.
CMS Willowbrook
Commercial Metals Company
ConocoPhillips
Consolidated Nuclear Security, LLC / Pantex
Continental Carbon Company
Continental Resources
Cornejo & Sons, LLC
Cowan Group Engineering
CP Kelco
CP&Y Inc.
Crafton Tull and Associates
Credera
CRH
Crossland Construction Company
CTC, Inc.
CVR Energy
CymSTAR LLC
Cyntergy
Daily Thermetrics
Ditch Witch
Duit Construction
EASi
Electrical Consultants, Inc.
Empire District - A Liberty Utilities Company
Enbridge Energy, LLC
Engineered Air Balance Co. Inc.
Enovation Controls
Enviro Systems, Inc.
EST, Inc.
Exelon Corporation
Extreme Fire Protection
ExxonMobil - Engineering
FCL Builders
Flight Safety International
Flintco LLC
FM Global
Ford Audio-Video Systems, LLC.
Foundation Energy Management, LLC
Freese and Nichols, Inc.
Frontier Electronic Systems Corp.
FSB Architects + Engineers
Garmin International
Garney Construction
Garver
GE Aviation
Georgia-Pacific
GFS Texas
Graphic Packaging International
Greenheck
Guernsey
H.W. Lochner, Inc.
Halff Associates, Inc.
Halliburton
Harrington Group, Inc.
Hayden and Company
Hayward Baker, Inc.
Helmerich & Payne, Inc.
Henderson Engineers
Hensel Phelps Construction Co.
Hewlett Packard (HP)
HFA
Hill & Wilkinson Construction Group
Hilti, Inc.
HNTB, Inc.
HollyFrontier - El Dorado Refinery
HollyFrontier Corporation
Honeywell
ICM
Idaho National Laboratory
Infrastructure & Energy Alternatives ( IEA )
Innovative-IDM
International Paper
Interstate Highway Construction
J. F. Ahern Co.
J.A.M. Distributing Company
J.B. Hunt Transport
Jacobs Engineering
JE Dunn Construction
Jensen Hughes
Kansas Department of Transportation
Keane Group
Kiewit
Kimley-Horn and Associates
Kirkham Michael & Associates, Inc.
Koch Industries, Inc.
L3Harris Technologies
Leggett & Platt
LexisNexis
Liberty Mutual Insurance
Life.Church
Linbeck
Linde Engineering North America Inc.
Lingo Construction
Love's Travel Stops
LW Survey Company
M.L. Jones, LLC
MacArthur Associated Consultants
Magellan Midstream Partners,L.P.
Marathon Oil Company
Marine Corps, United States
Marshalltown Company
Matrix PDM
Matrix Service Company
McCarthy Building Companies, Inc.
Meshek & Associates, LLC
Michelin North America
Missouri Department of Transportation (MoDOT)
MKEC Engineering, Inc.
Monte R. Lee and Company
MPW Engineering
Nabholz Construction
National Geospatial-Intelligence Agency
Navico, Inc.
Nelson Forensics
Niagara Bottling
NORDAM
Northwest Crane Service
Nucor Building Systems
OGE Energy Corp.
Oklahoma Asphalt Pavement Association
Oklahoma Department of Environmental Quality
Oklahoma Department of Transportation
Oklahoma State Board of Licensure for Professional Engineers and Land Surveyors
Oklahoma Steel & Wire
Okland Construction
Olsson
Oncor Electric Delivery
ONE Gas, Inc.
ONEOK, Inc.
OSU Human Resources
OSU Watson Graduate School of Management
Oxbow Calcining LLC
Pacheco Koch Consulting Engineers, Inc.
Pape-Dawson Engineers, Inc.
Parkhill, Smith & Cooper, Inc.
Patterson-UTI Drilling Company
Paycom
Peloton Land Solutions
PepsiCo
Phillips 66
Poe and Associates, Inc.
Pogue Construction Compnay
Poole Fire Protection
Power Costs, Inc.
POWER Engineers, Inc.
Pratt & Whitney- A United Technologies Company
Precision Castparts Corp.
Professional Engineering Consultants, P.A.
Pulte Home Corporation
Rexel USA
Rheem Air
Sandia National Laboratories
SCS Engineers
Sherwood Companies
Southland Industries
Southwest Research Institute
Spiars Engineering
Spirit AeroSystems
Stonebridge
Structural Group
Subsite Electronics
Summit Companies
Tailwind
Tanner Consulting, LLC
Telgian
Terex Corporation
Tetra Tech
Texas Instruments
Textron
The Boeing Company
The Cincinnati Insurance Companies
The Ross Group Construction Corp.
The Whiting-Turner Contracting Co.
Timberlake Construction
Tinker Air Force Base Civilian Employment
Trane Company
TreeHouse Foods
Tulsa Community Foundation
Turner Construction
U.S. Navy
University of Oklahoma - College of Law
University of Tulsa Graduate School
USAF Reserve
Valero Energy Corporation
Vaughn Construction Company
Vinson Process Controls Company, LP
W. W. Webber LLC
Wallace Engineering
Walmart Corporate
Walter P. Moore & Associates, Inc.
Waterfield Energy Software and Consulting
Webco Industries, Inc.
Western Farmers Electric Cooperative (WFEC)
Western Specialty Contractors
Western States Fire Protection
Williams Companies
Wiss, Janney, Elstner Associates, Inc.
XRG Technologies LLC
Zeeco, Inc.