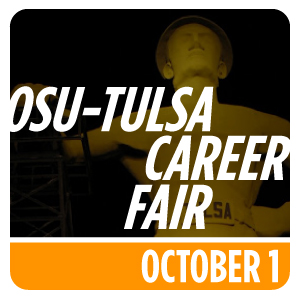 10/1 - OSU-Tulsa Career Fair
2 pm - 4 pm @ OSU-Tulsa, Main Hall Commons
Come prepared with your resume and meet companies that want to hire you for full-time, part-time, and intern positions. Companies are looking for all majors and degrees. Attend this fair and you will have the opportunity to meet with potential employers and learn about employment opportunities and internships they offer.
BOB Reservation
: Call 918-594-8332 or stop by the Information Center in the OSU-Tulsa North Hall lobby to make a BOB reservation. Tell the attendant that you are taking the bus for BOB for Jobs to attend the OSU-Tulsa Career Fair.
Registered Companies
HollyFrontier Corporation
Oklahoma Department of Human Services
OSU Human Resources
OSU Masters of International Agriculture
Webco Industries, Inc.