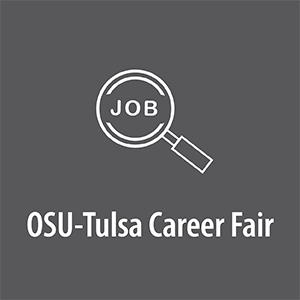 OSU-Tulsa Career Fair
- October 6, 2020
Hosted By OSU-Tulsa Career Services
Registration:
Click here to register
Time/Location
2pm - 4pm (Check In: 12pm - 2pm)
Main Hall Commons, OSU-Tulsa
Click here for directions & Lodging
Description
OSU-Tulsa students represent a wide variety of undergraduate and graduate level programs, including a diverse range of both traditional and non-traditional students. The OSU-Tulsa campus also attracts local alumni and experienced professionals to its career fair.
Registration Fees
1. Fees include: Parking, lunch, door prizes, advertising, and booth space.

2. Payment instructions will be emailed following receipt of your registration.
Early Registration
Ends 9/30/20
Cost per Table
Standard Registration
Begins 10/1/20
Cost per Table

*

Additional Reps
(Over 3 per Table)
Cost per Reps
Standard Registration

NOTE: An additional $100 discount will be applied for those companies who also attend any Spring OSU Career Fair in Stillwater, OK.

$250
$300
$75
Government, Education, Charitable Non-Profit 501(c)(3)


$100
$150
$75
OSU Department Standby Status

OSU Departments that would like to attend can be placed on a standby list for no fee. Space will be distributed in the order that registrations were received. Standbys will find out if they have a table by noon on 9/30/20.

$0
$0
N/A
*
Must purchase an additional table if there will be over 5 representatives for each table.
Policies:
2020 Spring OSU-Tulsa Career Fair Policy
Questions? Contact OSU-Tulsa Career Services:
tulsa.careerservices@okstate.edu
or 918-594-8404