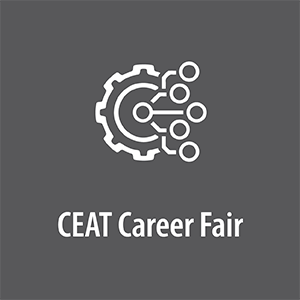 Virtual CEAT Career Fair
- September 15, 2020
Hosted By College of Engineering, Architecture & Technology Student Council
Time/Location:
9am - 3:30pm (Check In: 7:30am - 8:30am)
Virtual - Career Fair Plus
Description:
The Oklahoma State University College of Engineering, Architecture, and Technology (CEAT) Student Council is proud to invite you to the annual CEAT Career Fair. Consistently ranked as one of the top student-run career fairs in participation and quality, CEAT's Career Fair is an excellent way for companies to network with some of Oklahoma State's most outstanding scholars and leaders. Over 2300 students attended last year, mainly juniors and seniors. However, the fair attracts all levels of students. CEAT Student Council is excited to introduce you to our incredible students and with your help, we look forward to raising the bar for career fairs across the nation in 2020.
Registration
Payment instructions will be emailed following receipt of your registration.
Up to 10 recruiters included in your registration.
Standard Registration
Ends 8/20/20
Late Registration
Begins 8/21/20
Virtual Fair Registration


$400
$475
Virtual Fair Registration - Government Discount


$200
$275
OSU Department


$100
$175
Questions? Contact Lela Merkel or Molly Lammes at
ceat_careerfair@okstate.edu
, 972-795-9516