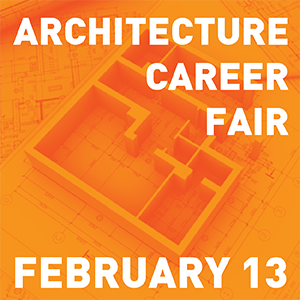 Architecture Career Fair
- February 13, 2020
Hosted By OSU Architecture Department
Registration
Click here to register
Time/Location:
9am - 11:30am (Check-In & Setup: 7:30am - 9am)
OSU-Stillwater, Student Union Ballroom
Description:
The Oklahoma State University Chapter of AIAS is pleased to invite you to participate in the School of Architecture's 2020 Career Fair. OSU has an outstanding professionally-oriented program. Our graduates have excelled in the practice of architecture in both Oklahoma and around the world. Our students are passionate, hard-working, and eager to continue learning about our profession. The Career Fair is a great opportunity for you to showcase your work to OSU's architecture, engineering, and design students. This event will also introduce you to students of all years looking for possible internships or full time jobs after graduation. We thank the many generous firms who supported our chapter last year and those who continue to employ students of the Oklahoma State University's School of Architecture. We also thank you for your interest and involvement in our school and look forward to seeing you at the School of Architecture's 2020 Career Fair!
For any questions, please email Nick Costin at
osu.aias@gmail.com
Registration Fees
| | |
| --- | --- |
| Fees include: Breakfast, lunch, refreshments, advertising/marketing, and booth space (8 foot table). | Standard Registration |
| Architecture Career Fair | $350 |
Schedule
7:30am - 9:00am Check-in and Set-up in the Student Union Ballroom
9:00am - 12:00pm Browsing in the Student Union Ballroom
12:00pm - 1:00pm Breakdown and Lunch in the French Lounge
1:00pm - 5:00pm Interviews in the Student Union (HireOSUgrads Office, 3rd Floor)
Interview Rooms
Please book interview rooms ahead of time. Due to the limited amount of interview rooms you may not be guaranteed an interview room if you wait until the day of the career fair. We will try our best to accommodate you if something comes up and you are not able to book ahead of time. Chad Anglin from Career Services will be contacting you regarding your interview room needs.